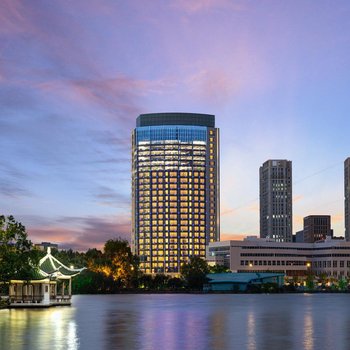 With a family of 17 hotel brands and IHG Rewards, one of the world's largest hotel loyalty programmes, IHG has nearly 6,000 open hotels in more than 100 countries, and a further 1,800 in the development pipeline. HUALUXE Hotels and Resorts is an international premium hotel brand specifically created by IHG for Chinese Business Elite.
The hotelis located in Changfeng Ecology Business District's prosperous and energetic commercial circle. Ideal for both business and leisure travel, the hotel enjoys the beautiful scenery of Changfeng Park and is just steps away from both Metro Line 15 and Shanghai Convention & Exhibition Center of International Sourcing (SHCEC).
Taking advantage of its excellent location and green vista, the hotel design inherits the distinctive mix of architecture and natural elements found in traditional Chinese landscape gardens. It further embraces the poetic expression of water is everything as the key design element and winds it through the entire space. The hotel features luxuriously elegant rooms and suites. We welcome you to enjoy CAI FENG LOU Chinese Restaurant and Xian Yan All Day Dining, each serving traditional and imaginative cuisines. For a bit of social intimacy, our LUXE Tea venue provides a regal tea tasting setting that is simply divine. We further feature more than 1,060 square metres of impressive banquet and meeting space, as well as a fully equipped gym and an indoor heated swimming pool to cater to your lifestyle needs.